It's time to rethink your bathroom! After all, your bathroom shouldn't just be functional! You want it to be:
Beautiful
Modern
A reflection of your personal style
Of course, you also want your new bathroom to be affordable. And sometimes, you have a budget that simply won't work with a full remodel. That's when you need to think outside of the box to find solutions that are small but impactful.
Our personal favorite design tip? Installing a new sink!
A new sink can change the entire feel of your home without too much hassle. But with so many different types of bathroom sinks, it can be difficult to know which one you should choose. That's why today, we're here to help you understand your options!
Why You Should Add a New Sink 🫵
Do you really need to add a new sink? After all, the one you have is working just fine, right?
Sure. And you can also keep wearing your high school gym t-shirt instead of investing in real, grown-up pajamas. It doesn't mean it doesn't work, but are you getting the optimal experience?
If you are wondering whether a sink replacement is right for you, check these reasons why you should take the plunge!
Storage Space – Depending on the style of sink that you have, a new one can help provide you with much more storage space. Under-the-sink storage can be very valuable, particularly in smaller bathrooms.
Modernize Your Space – Older sinks and countertops can quickly make a space feel dated. Investing in a new sink can help to modernize your bathroom and make it more visually appealing.
Make the Most of Your Bathroom Space – If you are dealing with an awkwardly laid-out or small bathroom, you might not realize how much of a difference a smaller sink can make. Pedestal bathroom sinks or wall-mounted sinks can help to keep your bathroom functional without feeling clunky and overpowering.
Increase Resale Value – Most home buyers appreciate a modernized and renovated bathroom. If you are looking to sell your home in the near future, upgrading to new fixtures can help get you more money!
5 Types of Bathroom Sinks 🚰
With so many bathroom sink types, it is easy to feel overwhelmed by your options. We've broken it down into the five major bathroom sink styles you will encounter and their pros and cons.
1) Pedestal Sinks
Pedestal sinks are a classic sink style that works exceptionally well in small or half baths. Pedestal sinks are characterized by their stand and by the lack of a cabinet or countertop. They sit solidly in the middle of the price spectrum, making them a great choice for homeowners who want to add character without breaking the bank.
2) Drop In Sinks
Drop-in sinks are easily one of the most common types of sinks that you see in modern homes. These sinks are placed on top of the countertop, with an overlapping rim. They are by far one of the most affordable sink styles and will never go out of fashion! Additionally, they can be purchased in a wide range of materials, making them very versatile.
3) Vessel Sinks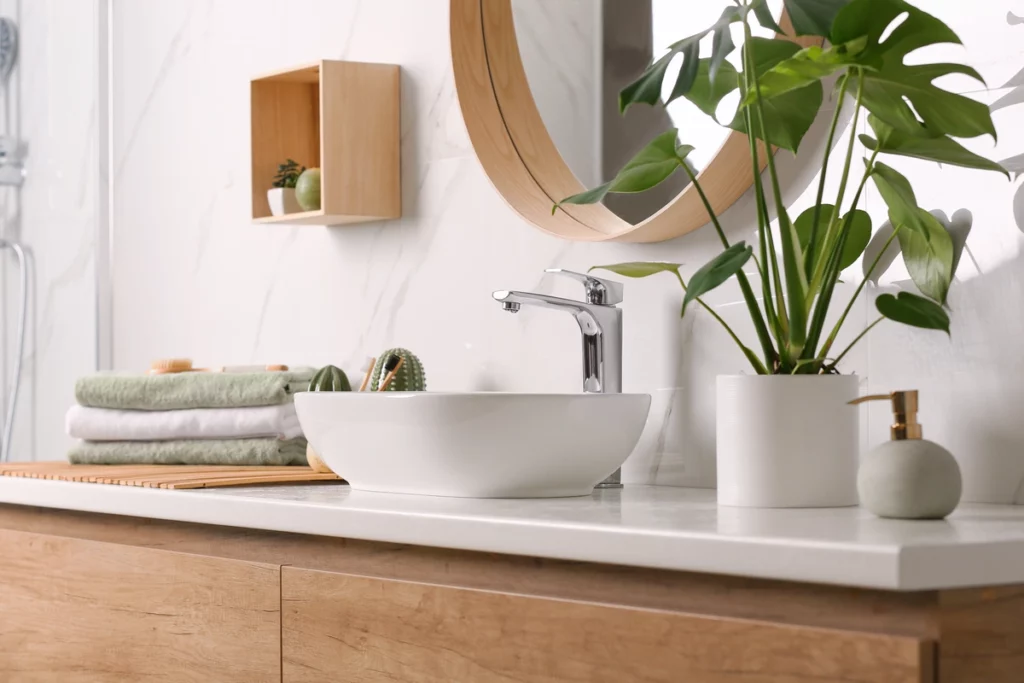 If you are looking to make a design statement, a vessel sink is the answer you've been searching for! Instead of being installed into the countertop, vessel sinks are typically basins that are placed on top of the counter.
Design-wise, you can get as creative as you want with this! Many people choose pre-fabricated basins, but you can also opt for a thriftier option, as well! Vintage or antique bowls are popular choices for those looking for a farmhouse or eclectic style.
4) Undermount Sinks
Undermount sinks have a similar classic feel to drop-in sinks but create a slightly sleeker line. This is done by installing the sink underneath the countertop, with no rim to disrupt the visual line. This, again, is a relatively affordable sink style, although you'll want to be sure to pair it with a solid surface countertop for the best results.
5) Wall Mounted Sink
A wall-mounted sink allows you to create a unique vintage feel in your home while freeing up floor space. These sinks are exactly what they sound like: mounted to the wall! Because of this, the plumbing will be visible. And while many people choose this sink style for its affordability, we recommend opting for a slightly more expensive, stylish model in order to avoid your bathroom feeling like a public restroom.
Bathroom Sink Materials 🔧
Now that you have an idea of what sink style you are drawn to, it's time to pick out the materials! Here are some of your options:
Porcelain – Porcelain has been a popular choice for years due to its durability. It will not rust or stain and cleans up very easily.
Enamel- Enamel is a great alternative to porcelain. A layer of enamel typically rests on top rests on top of a cast iron body. This makes for a very strong sink that is designed to last.
Stainless Steel – Stainless steel is typically reserved for utilitarian spaces in the home, such as a kitchen or bar area, but can make a statement in a bathroom. Stainless steel is easy to clean and is very long-lasting.
Stone – A stone sink bowl adds the perfect touch of elegance to your home. Keep in mind, though, that you will need to make sure to seal the stone in order to absorb any stains.
Glass – Glass sinks are uncommon but add that perfect antique elegance to almost any space. Keep in mind that glass is delicate and not ideal.
Concrete – If you love modern, industrial design, then a concrete sink may be just what you are looking for. You can get this pre-made or custom-poured for your bathroom. However, like stone, a concrete sink is porous and will require regular sealing to keep it in its best shape possible.
Wood – While we wouldn't recommend them for a high-traffic bathroom, we love the boho look of a wooden bathroom sink. They easily transform your bathroom sink into a statement, although they require regular maintenance and will likely be more expensive than other options on this list.
Get a Plumber's Opinion! 👩‍🔧
Ready to start your bathroom transformation? Our team at Black Tie Plumbing is here to help. Whether you want to switch out your sink or are hoping for a full bathroom remodel, we can help. Contact us today to get started on your renovations!